Oral Surgery, Dental Implants, and Wisdom Teeth Removal in Fresno, CA
Oral surgeons Dr. Chien, Dr. Kheradpir, Dr. Barnhart, Dr. Huh, Dr. Curiel, and Dr. Salim offer dental implants, wisdom teeth removal, and more in Fresno, Clovis, Reedley, Madera, and Visalia, CA.
Common Oral Surgery Procedures
We perform many oral surgery procedures and will determine the right treatment for your needs.
Fresno's Preferred Oral Surgeons Since 1966
Fresno Oral Maxillofacial Surgery & Dental Implant Center has multiple locations in the central valley to serve our patients. All of our doctors are board-certified and work together toward a common goal: to improve your oral health and quality of life. Our Fresno office is located in the heart of Fresno, California, where you can expect to be treated like a member of our own families.
Procedures at Our Fresno Office
We offer a wide range of oral and maxillofacial surgery procedures. To view all of our services, please visit our oral surgery page.
Dental Implants in Fresno
Dental implants are a revolutionary solution for one or more missing teeth. They recreate the look, feel, and function of a natural tooth by fusing to the jaw bone and supporting a custom-made crown. A dental implant will remain in your mouth at all times, unlike removable bridges or partials that have to be taken out during eating and brushing. Dental implants can even support a fixed denture for long-term smile replacement through full-arch restoration. Once a dental implant is inserted into an empty tooth socket, the implant post fuses to the jaw bone. This provides the same stimulation as a natural tooth root, keeping the jaw bone strong and healthy over time. Tooth loss is often associated with jaw bone deterioration due to lack of stimulation. In fact, dental implants are the only tooth replacement solution that maintains the integrity of the jaw bone.
Wisdom Teeth Removal in Fresno
Wisdom teeth develop in the back of the mouth during the late teenage years or early twenties. The average mouth isn't big enough to support an extra set of molars, which can lead to many oral health complications. Wisdom teeth can push against other teeth and damage nearby roots or nerves. They can become trapped beneath the gums, known as impaction, and leave you susceptible to infection. Dental professionals recommend having wisdom teeth extracted as soon as possible to avoid these health problems and more.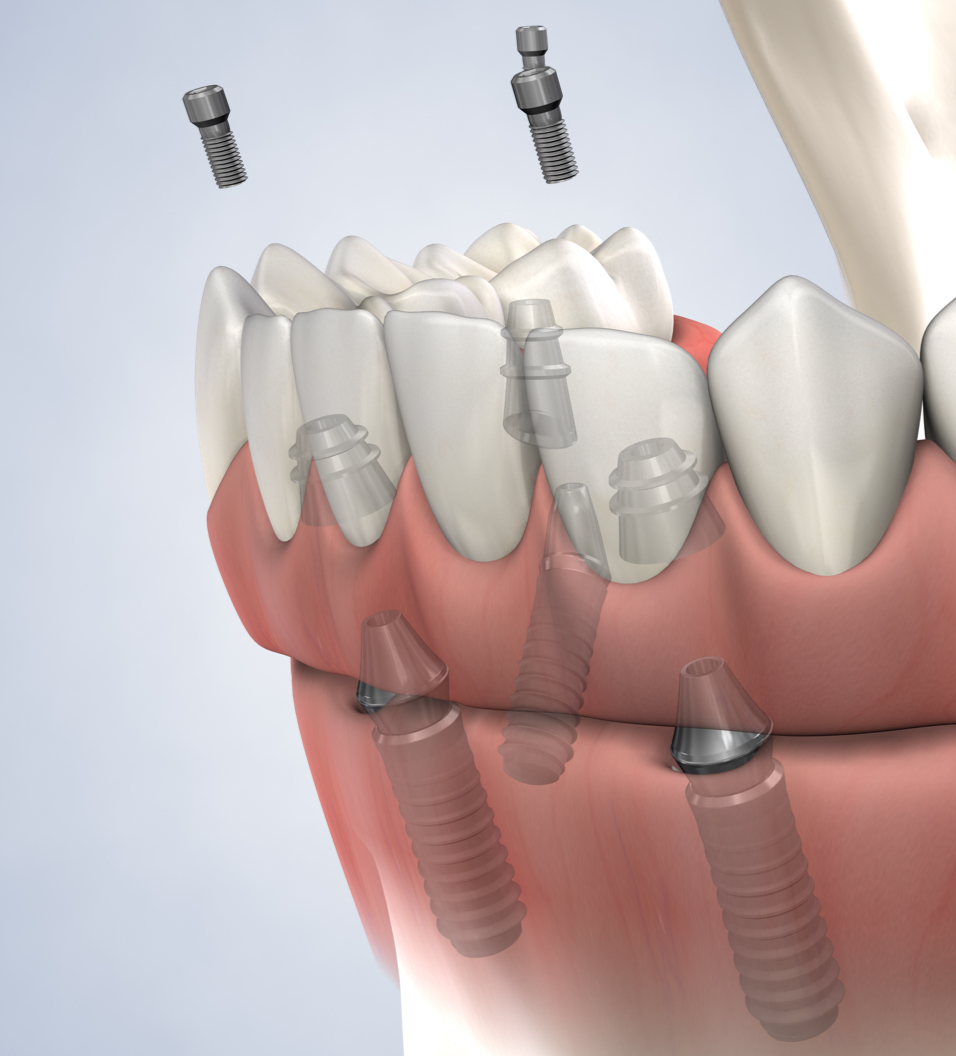 Why Choose an Oral Surgeon
When a patient requires more complex surgery or diagnosing, general dentists refer them to an oral surgeon. Oral and maxillofacial surgeons undergo an additional 4–6 years of training after dental school, where they learn to administer all forms of anesthesia and perform more intricate procedures like orthognathic surgery and facial trauma treatment. Many oral surgeons are on call at local hospitals, where they provide care for emergency cases.
Oral surgeons are experts at diagnosing and treating problems with the bones and soft tissues of the head, neck, mouth, and jaws. During residency training, they gain experience administering general anesthesia in a hospital setting while monitoring patients throughout their procedure. All of the oral surgeons at Fresno Oral Maxillofacial Surgery & Dental Implant Center took their expertise one step further by becoming certified by ABOMS, a leading organization that recognizes the top oral surgeons in the nation.
Surrounding Cities
Fresno Oral Maxillofacial Surgery & Dental Implant Center has multiple offices located in Central California. If you're looking to improve your oral health or have been referred to us by your general dentist, please call our Fresno office to schedule your appointment. Our board-certified oral surgeons perform restorative treatments, such as dental implant placement and full-arch restoration, as well as other surgical procedures including treatment for facial trauma and cleft lip or cleft palate. We also perform preventive procedures, including wisdom teeth removal, oral pathology treatment, bone grafting, and much more. Be sure to ask us about stem cell banking if you need your wisdom teeth removed! Our Fresno office proudly serves the patients of Fresno, CA, and these surrounding areas:
Fresno
Clovis
Selma
Sanger
Fowler
Easton
Biola
Calwa
Malaga
Message Our Fresno Office
*Required Fields
Our staff is here to answer your questions, schedule appointments, and help you on your journey to better oral health.