Oral Surgery, Dental Implants, and Wisdom Teeth Removal in Visalia, CA
Oral surgeons Dr. Chien, Dr. Kheradpir, Dr. Barnhart, Dr. Huh, Dr. Curiel, and Dr. Salim offer dental implants, wisdom teeth removal, and more in Fresno, Clovis, Reedley, Madera, and Visalia, CA.
Common Oral Surgery Procedures
We perform many oral surgery procedures and will determine the right treatment for your needs.
Proudly Serving Patients of All Ages in the San Joaquin Valley
At Fresno Oral Maxillofacial Surgery & Dental Implant Center, our team of oral health experts offers a variety of oral surgery services in a welcoming, state-of-the-art environment. All of our oral surgeons are board-certified and stay up to date with the latest technological advancements in our field to provide patients with safer care and better results. Our Visalia office is on the south side of town on W Caldwell Ave, just south of Blain park. Contact us today to schedule your consultation!
Procedures at Our Visalia Office
Dental Implants in Visalia
If you are missing teeth, or if you have teeth that are too damaged beyond repair, dental implants can restore your smile with long-lasting replacement teeth. Dental implants are the only tooth restoration option that is inserted into the jaw bone, where the implant post acts like a natural tooth root. The post stimulates the jaw, preventing bone loss that can occur when teeth are missing. Unlike dentures or bridges that only restore the appearance of missing teeth, dental implants restore full functionality, allowing you to enjoy your favorite foods, laugh, and smile comfortably. Dental implants are custom-made to blend naturally with your other teeth, and you can receive as many implants as you need to achieve a healthy, complete smile. Patients in need of a brand new smile may qualify for full-arch restoration, which uses dental implants to support a fixed denture in one or both arches.
Wisdom Teeth Removal in Visalia
Many people develop third molars during their late teens or early twenties. These molars, more commonly known as wisdom teeth, can cause many oral health problems if they are left untreated. The average adult mouth does not have room to house an extra set of molars. As wisdom teeth develop, they can damage adjacent teeth or cause them damage as they try to squeeze into the dental arch. One of the most common symptoms of wisdom teeth is pain or pressure in the back of the mouth, although some wisdom teeth do not cause noticeable symptoms. Even if wisdom teeth are asymptomatic, having them removed will prevent future complications like pain, infection, impaction, overcrowding, and more from having the chance to arise. Our oral surgeons offer many anesthesia options to ensure a calm, comfortable wisdom teeth removal experience.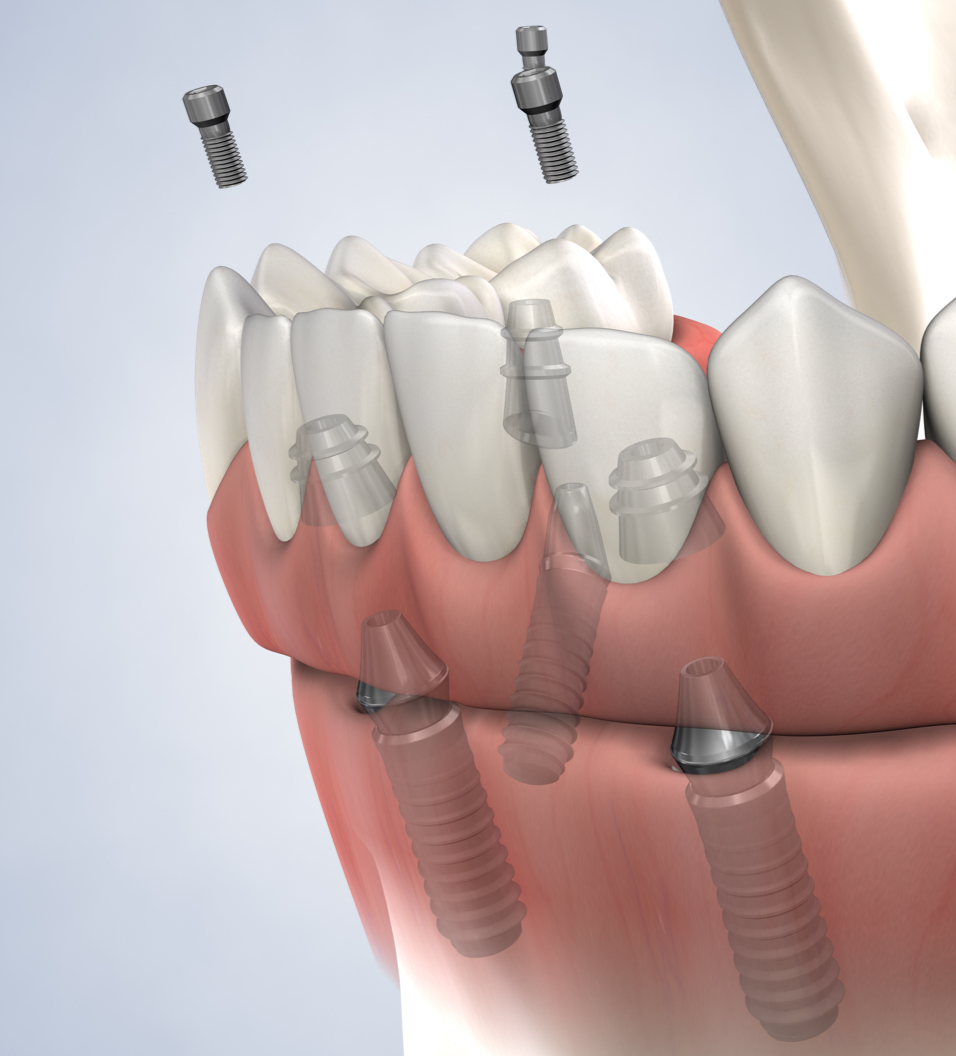 Why Choose an Oral Surgeon
General dentists and other medical professionals refer patients to an oral and maxillofacial surgeon when the patient requires more complex diagnosing, advanced anesthesia for dental surgery, or surgery to the head, neck, mouth, or face. After completing dental school, oral surgeons must complete an additional 4–6 years of hands-on training during their residency. This training provides them with experience caring for patients with a variety of oral health needs in a surgical setting. Oral surgeons are the only dental professionals who are qualified to administer all types of anesthesia and sedation for surgery, including general anesthesia. Many oral surgeons are on call at local hospitals, where they respond to emergency facial trauma cases.
Dr. Allen Chien, Dr. Ardavan Kheradpir, Dr. Shannon Barnhart, Dr. Brian Huh, Dr. Thomas Curiel, and Dr. Shayan Salim have taken their training and expertise to the highest level by becoming board-certified by the American Board of Oral and Maxillofacial Surgeons (ABOMS). To uphold this certification, they must maintain the highest standards of patient care and clinical excellence. As a patient at Fresno Oral Maxillofacial Surgery & Dental Implant Center, you can feel confident that you and your loved ones are receiving a superior level of care from a team of experts you can trust.
Surrounding Cities
Our friendly and helpful staff is always ready to assist you and answer any questions you may have about your treatment. We offer many procedures, including dental implants, full-arch restoration, wisdom teeth removal, cleft lip and palate repair, bone grafting, jaw surgery, treatment for oral pathology and sleep apnea, and more. During your first visit, your oral surgeon will examine your oral health, walk you through your treatment options, and design a custom care plan specific to your needs. Our Visalia office proudly serves patients throughout the San Joaquin Valley and surrounding areas, including:
Hanford, CA
Tulare, CA
Lemoore, CA
Kingsburg, CA
Exeter, CA
Farmersville, CA
Orosi, CA
Porterville, CA
Message Our Visalia Office
*Required Fields
Our staff is here to answer your questions, schedule appointments, and help you on your journey to better oral health.